"Hum school wapis kab ayeinge?"- An Education Emergency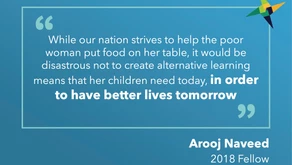 Poverty in Pakistan is difficult to ignore but that does not keep many of us from trying. From the most basic of ways in which our neighborhoods are structured, to the schools and resources our children can access, most of us can't really tell that we are living through a crisis until it threatens to affect the way ​we​, the privileged, lead ​our​ day-to-day lives. The government school that I teach at was closed on March 16th and to date, my students are at home, with no knowledge of when things will return to normal. I have gotten calls from parents saying things like, ​"Mein apne bachon ko parhana chahta hoon. Mein chahta hoon ke unka ye waqt zaya na ho. Kya kar sakta hoon mein?" ​(I want to educate my children. I want this time to not go to waste for them. What can I do?).
A few moments before writing this, a student calling to wish me Ramadan Mubarak mentioned that her neighbor, a boy in our class, had gone to his village. Upon enquiring when he would be back, I was told that his mother had passed away recently, and that the family had gone back, for good. Writing this now, I feel numb and do not know what to do. This ten year-old boy, one of the most confident and excited-to-learn students in my classroom, has lost his mother, suddenly made a permanent shift away from home​, and left behind his school and friends without getting to say goodbye—all in the midst of a deadly pandemic and countrywide lockdown. What do we offer a family or child in the wake of a personal and shared crisis such as this? What does one say?
As a teacher, I realize that the situation is unprecedented but through every interaction with my students, one thing is clear: school means more to our kids and their families than we give it credit for. For my students, it has been a space for normalcy in their lives, a routine with friends and a caring adult who is supposed to both take care of them and help them learn. For parents, school represents a dream​—​that with a proper education, their children can grow up to better circumstances, break out of endless struggle, and achieve something in their lives. This is what is desired of school itself, but for children to get the most out of it, academically, they have to be on par with their grade levels. Unfortunately, this is not the case in the average Pakistani public classroom.
The public education system we have in place is wrought by many challenges and even the regular school day requires facing what those of us who are more privileged would call ​a crisis.​ From the most basic barrier that is the English language​—the medium in which our textbooks are written, limiting knowledge from being spoken about, much less understood, debated or truly retained, by either student or the average Pakistani teacher—to the other structural issues (in curriculum design, teacher training, and corporal punishment, to name a few) that keep our kids from succeeding, it is easier to understand how we live in a country where sixty percent of our kids never make it past the fifth grade.
In spite of these challenges, I have seen my students make massive strides in their learning, both academic and personal. From having jumped multiple grade-levels in English and Mathematics already at the end of the first year of my Fellowship, to showing massive growth across a number of non-cognitive skills, we have come quite far. And I am scared to lose what all we have worked towards. The challenges were big enough without having to go cold-turkey on school altogether. I worry even more, as a Pakistani citizen, for the average school going child, who may be even further behind grade-level than my students currently are. In the absence of a working internet connection and the teaching resources needed to make up for being at home, so many of our children and their families in low-income communities are losing out on the hard work they have been doing for so long. We cannot afford to skip out on any more learning, given how far behind our most vulnerable students are, already.
As I make and receive phone calls, every child tells me about how much they miss how things used to be: "Hum school wapis kab ayeinge?" I don't have an answer, but it is devastatingly clear that my students lead lives that are completely different from those of any of our school-going siblings or younger cousins in more privileged households. Nobody is waking them up in the morning, giving them breakfast and telling them to, "make sure to attend today's classes on Zoom". Unlike many of the children in our families, they do not get the chance to complain about how awkward their teacher is online, or laugh about how they can take classes in their pyjamas. Even writing these comparisons seems ludicrous because the inequities are far more grave than just not being able to complain or laugh about online classes. If even "a good day" at a public school like ours is akin to what Nadia Nawiwala refers to as "a crisis of education", then what our schools are facing right now is a state of emergency.
While most of us see this as a time of disruption, we must recognize that those most vulnerable among us are hit so much worse. While we as a nation strive to help the poor woman put food on her table, it would be disastrous to forget to create alternative learning means that her children need today, in order to have better lives tomorrow.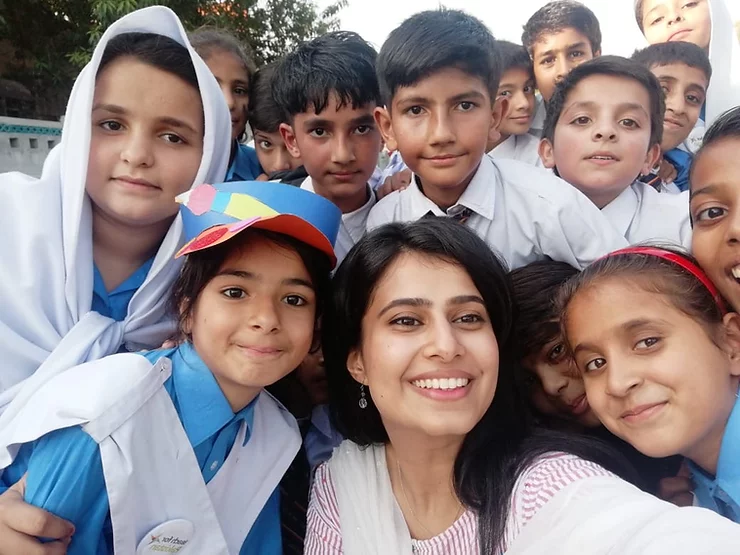 Fellow Arooj Naveed teaches 5th graders in a government school in Bhara Kahu. She is hoping to start her Masters in International Education Policy at Harvard University in the Fall of 2020.
---