WE SEEK fresh graduates, international students and young professionals from all backgrounds
who have the desire and ability to disrupt conventional discourse and practice on education reform in Pakistan.
Our approach to selecting Fellows is grounded in our commitment to ensuring student success. Fellows are tasked with a challenging job: ensuring their students experience the emotional and intellectual growth that will positively impact their life prospects, and that schools and communities are better equipped to support children. Each applicant is assessed on the following competencies that we believe are predictive of success as a Fellow.
Proven record of academic success
Demonstrated leadership through co-curriculars and volunteer work
Willingness and ability to build relationships in diverse settings
Perseverance and resilience in challenging environments
Ability to motivate themselves and others
Strong organisation and communication skills
Demonstrated commitment to social change
Think you have what it takes? Check if you're eligible!
We encourage individuals from all academic and professional backgrounds to apply. Our requirements include the following:
University Backgrounds of Previous Cohort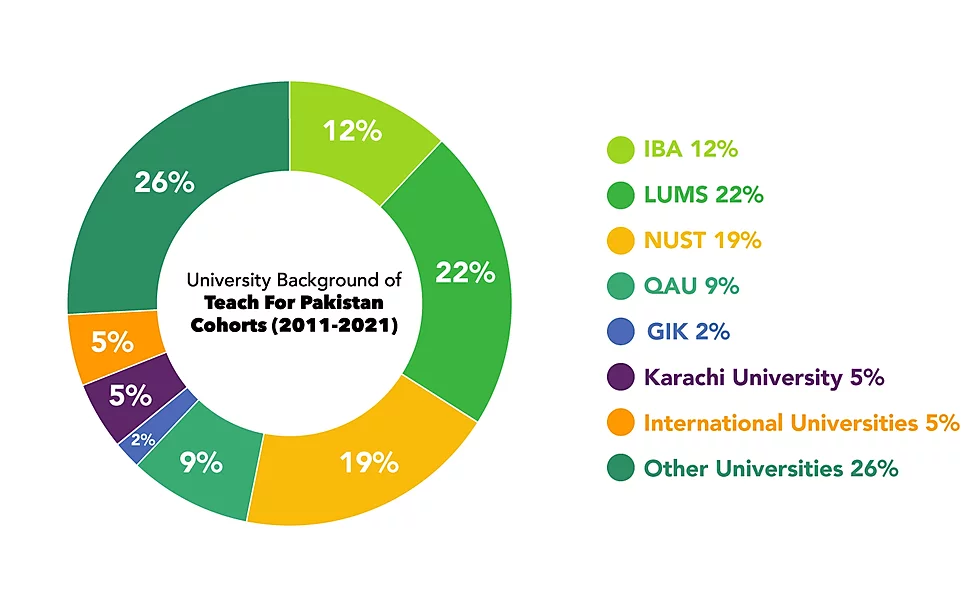 I wanted to do work that helps me understand the issues facing Pakistan's education sector. In my two years of teaching, I witnessed the glaring absence of participatory policies and the use of data to drive policy decisions.
​ This led me to pursue a graduate degree in Data Science for Public Policy and focus on equity in policy, driven by the lessons from the Fellowship.
Maryam Khalid Shah

The Fellowship has given me purpose, direction, and a masterclass in adaptive leadership. I witnessed lives changing for so many people including myself. I am not the same person on the other side of this journey.
If you want to challenge yourself to do something extraordinary, Teach For Pakistan is the place you need to be at.
Arooj Naveed Haq