Our Alumni hold the key to system change.
The two-year Fellowship prepares our Alumni to attain leadership positions in and beyond the education system, working collectively to build a movement for educational equity across Pakistan.
Currently, 215 Alumni are lifelong champions for every child's right to participate in quality education.
Alumni are working in education, expanding opportunities for children and improving the quality of life in under-served communities.
Alumni work in school leadership, social innovation, public policy and community mobilization.
Our Alumni are rewriting government textbooks, supporting teacher recruitment reform, leading thriving schools, informing provincial policies, and developing EdTech solutions.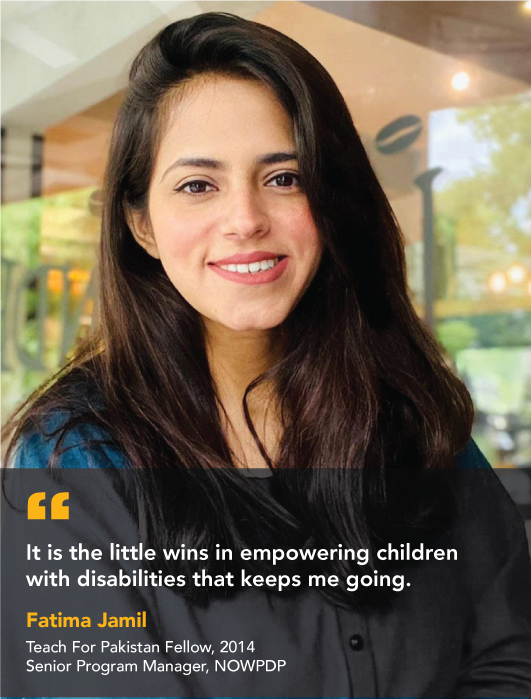 Enabling the Differently-abled
Fatima Jamil Khan is the Senior Manager of Programs at the Network of Organizations Working For People With Disabilities Pakistan (NOWPDP). She runs the Centre of Excellence for Financial Inclusion for Persons with Disabilities (PWD) in Sujawal, Sindh.
The Center plays a critical role in the skill development of PWDs and helps them get jobs on merit in the financial sector. Fatima also identifies children with disabilities in the communities where the Network operates, they are then enrolled in its special education school.
Upon graduating from IBA, Karachi in 2014 Fatima wanted to be a part of something bigger than herself and TFP provided her with a grassroots-level experience to transform innumerable lives. Her two-year Fellowship at Government Primary School in PNT Colony Ghizri, Karachi has been a life-changing experience. 
Fatima went on to acquire M.Ed – International Education Policy and Management from Vanderbilt Peabody College as a Fulbright scholar. She has since helped the Government of Sindh create sustainable policies and implementation mechanisms for children with disabilities. She has also helped the State Bank of Pakistan draft recommendations for the financial inclusion of children with disabilities. Fatima is also working with UN Women to improve the life outcomes for women with disabilities.
Fatima's sense of fulfillment comes from knowing her efforts are contributing toward the creation of an equitable society.
Read Full Story
Show Less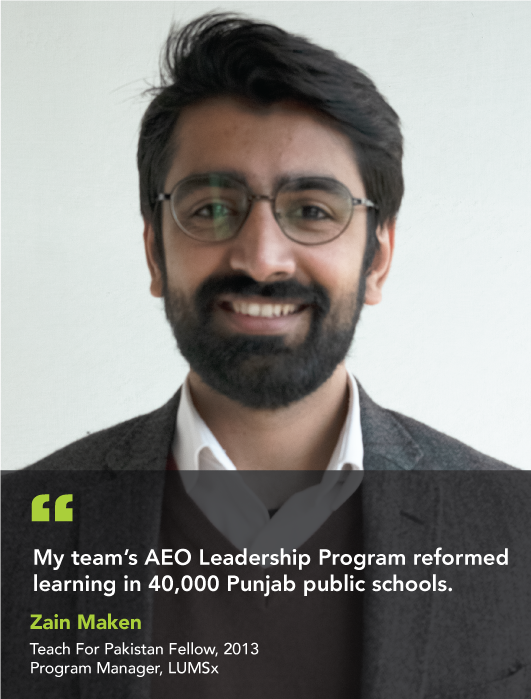 Scaling equity through force multiplication
Zain's passion for education was rewarded with an opportunity to reform learning outcomes in Punjab's 40,000 schools through the Assistant Education Officer Leadership Program. As the Teaching & Learning Advisor at Mott Macdonald on the Third Punjab Education Sector Reform Project, Zain's team trained 3200 Assistant Education Officers (AEOs) to emerge as effective mentors and leaders for primary school teachers.
Feedback and constant support are extremely important for teachers to perform at their best. Zain designed and conducted training programs for AEOs to observe and evaluate classroom practices and give effective feedback to the teachers. The program also promoted peer learning amongst the AEOs.
As sustainability is the key to any reform process, Zain's team developed a digital application for uninterrupted support to AEOs through extensive learning content for continuous improvement.
Zain, who graduated from the Lahore School of Economics in 2013, believes that his Fellowship experience of teaching in a primary school on the outskirts of Lahore was crucial to understanding systemic reforms in the education sector and the political economy it operates under.
Upon his return from Vanderbilt University where he studied Education Policy as a Fulbright scholar, Zain again joined Teach For Pakistan's core team to launch it as an independent program in Islamabad in 2017. He currently works as a Program Manager at LUMSx, a digital learning centre at LUMS that aspires to work towards a reality where millions of Pakistani learners can learn anytime, anywhere.
Read Full Story
Show Less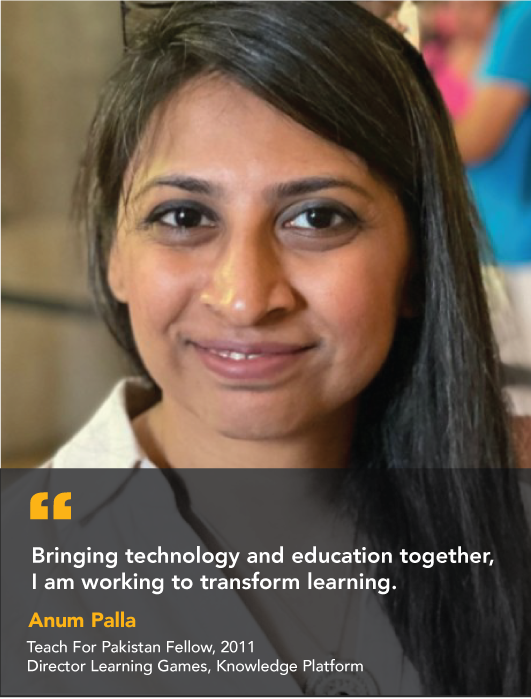 Colony to Constellation:
Anam Palla is Director-Marketing at Knowledge Platform, an ed-tech company working on learning solutions. One of the most interesting pilots she has recently worked on is an Artificial Intelligence educational program that can tailor learning to an individual child's needs. Imagine the potential for this, for learners with special needs and out-of-school children!
Explaining the synergies between her Fellowship days as a member of TFP's first-ever batch in 2011 and the subsequent work she has undertaken, Anam feels that marrying technology and education requires the background and context of systems and processes that she was fortunate to have gained during her Fellowship.
From the comfort of her home and the academic environs of IBA, it was quite a trip to the narrow lanes of Karachi's Akhtar Colony where she taught as a Fellow at the Government Girls Secondary School.  What she found waiting for her in the dimly lit classrooms was actually a constellation of bright stars.
In addition to her teaching assignment, during her Fellowship, she trained 20 other teachers who in turn taught 200 students each.  She fondly remembers the heady feeling of making a difference in 4000+ lives.
Anam continues to impact innumerable lives, engendering systemic change, and inspiring others to expand their horizons and bring newer constellations into the fold of quality education through equity.
Read Full Story
Show Less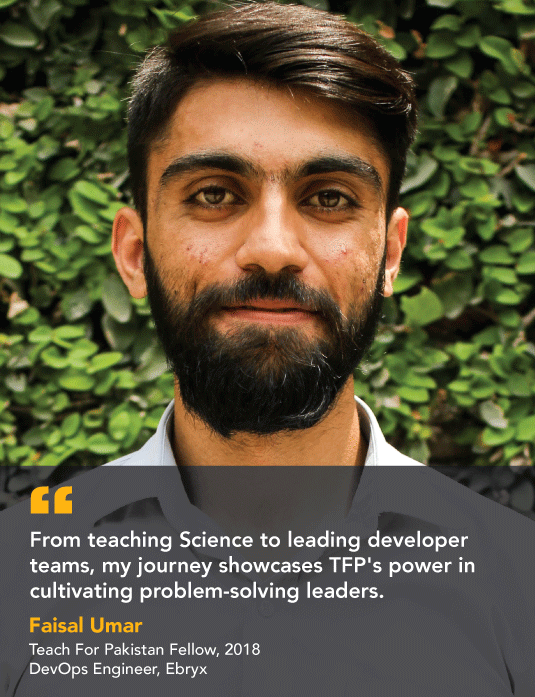 Detour worth a destination
The ease with which you can hail an app-based ride may have its roots in how Teach For Pakistan inculcates problem-solving and scale-up skills in its teaching Fellows. Surprised? Read on!
After completing his Fellowship in 2020, Faisal joined Veeve, a Seattle-based software house, where he works remotely as DevOps Engineer. Despite being relatively new to the field, he leads a team of developers and attributes his success to his experience at TFP. "Others on my team may have been technically as sound as me, but I believe the top management saw a leader in me, someone who could uphold the organization's values and mobilize others towards its vision."
Faisal graduated as an engineer from NUST with a passion for software engineering. He joined TFP as a Fellow in 2018. He taught Science to Grades 5 and 6 at a government school for boys in Jaba Teili, in Islamabad's suburbs.
Faisal carries the ethos of the TFP movement beyond his work. Recently, he ran a free development operation boot camp. As a result, many have been able to acquire jobs and kick-start their careers in software development. Faisal feels that despite working in an entirely different field now, integrity, and empowering others to be their best selves, values he internalized during his TFP Fellowship, continue to guide him in every aspect of his life.
Faisal remains connected with his students and frequents the school community regularly.
Read Full Story
Show Less
Reaping what he sowed
Fahad's work as Finance Business Partner at National Foods and before that at Engro has fascinating aspects of improving agricultural practices, food production, and processing, and the importance of grassroots engagement, something he picked up early on during his Teach For Pakistan Fellowship.
At Engro he focused on creating inclusive business opportunities for small farmers in rural areas. The Fellowship experience gave him the skills to engage with the farmer communities and to improve their children's education through Engro-adopted schools in Khairpur, Sindh, and Sahiwal, Punjab.
Fahad played a key role in setting up FeedSol, an independent revenue-generating organization under Engro, which empowers farmers to increase their productivity and improve their livelihoods. To further scale up community development, he transitioned to roles in finance and business partnerships at Engro and then at National Foods. Throughout his journey, Fahad's experience with TFP and the stakeholder management skills he developed during his Fellowship have been a great help.
He first came across the TFP program while pursuing a business degree at IBA in 2012, he knew straight away that it was going to be his pathway to impacting lives. As a Fellow, he taught at a public school in Lemo Goth, Karachi. It was here that he saw the need for leaders working as one from various sectors to fundamentally transform the system.
Building upon his Fellowship experience, he earned an MBA at LUMS. Fahad's journey showcases the potential of the Fellowship to bring together personal growth and transformative change through equity. Fahad currently works as Finance Enterprise Partner at Roche, a global pioneer in pharmaceuticals and diagnostics focused on advancing science to improve people's lives.
Read Full Story
Show Less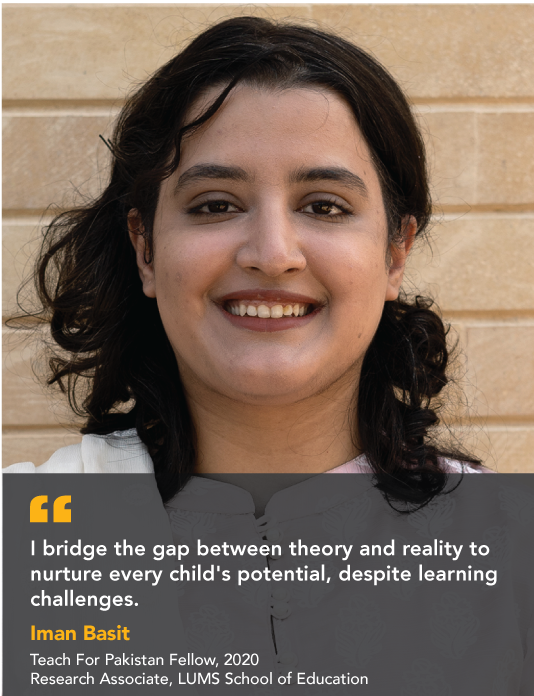 Inclusion needs policy & practice
Iman works at LUMS School of Education where she researches the intersection of poverty and disability in education. She is working on creating literature to inform policies with the hope that it would overcome barriers to the education of children with learning disabilities. 
Studying Economics & Politics at LUMS, Iman became particularly interested in 'education', as a discipline, being struck by the simplicity of the concept in theory, yet the complexity of the issues surrounding it in practice. Despite having a teaching force, a curriculum to follow and infrastructure to learn in, she began to question how the education system had gotten it so wrong, that a 5th grader, in a public school, could neither read nor write.
To deepen her understanding of systemic hiccups at the grassroots level, Iman joined the Fellowship in 2020. Teaching Grades 4 & 5 at IMSG Badia Qadir Buksh on Islamabad's outskirts, she learned how to work with people from various backgrounds and build lasting relationships based on a shared vision of providing inclusive and equitable education to all children. 
Coming across learning challenges like dyslexia in her classrooms made her realize that there were no policies that catered to these children, and teachers lacked the necessary resources and skills to teach them. This disconnect between ground realities and existing policies steered her toward research for policy reforms. 
An advocate of collective leadership to fight the stigma associated with disabilities, Iman is striving to ensure that all children, regardless of their background or ability, have access to quality education.
Read Full Story
Show Less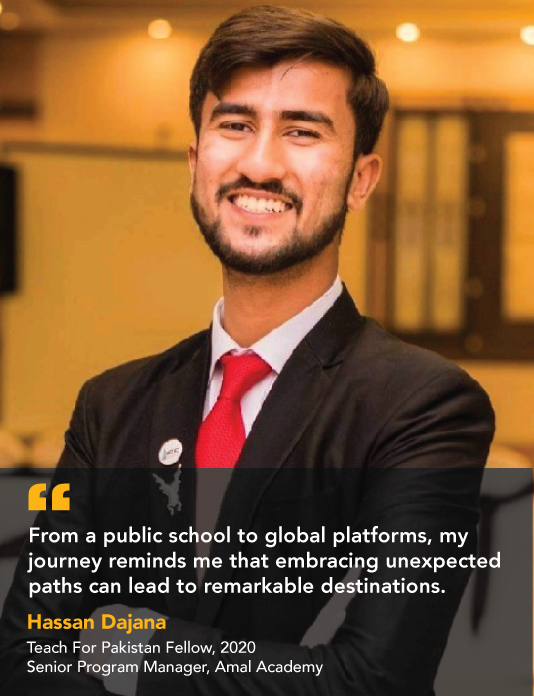 Learning environment to Climate Change
Connecting the dots between a government boys primary school on the outskirts of Islamabad and the World Economic Forum in Davos, Switzerland is difficult. The connection would have been even more difficult to imagine for parents who reluctantly allowed their freshly-minted engineer son to dedicate two years of his life to teaching a gaggle of 3rd to 5th graders in a public school for two years.
Life, it seems, has its own way of rewarding the brave. Hassan Dajana took this path in 2020 when he joined the TFP Fellowship. The rest as they say is not just history but more a future rooted in the global effort for addressing climate change through grassroots-level community engagement.
Hassan sees his decision to join the Amal Academy, helping adults to realize their potential as a natural progression from his Fellowship. He has helped more than 100 adults to develop skills like communication, leadership, teamwork, and public speaking to meet various industries' human resource needs.
Through his association with the Global Shapers' Community, and Climate Reality Leadership Corps, he got exposed to high-level deliberations at the UN office in Geneva and the World Economic Forum in Davos, Switzerland.
Hassan feels that traits picked up during his Fellowship years, like reflection, never losing hope, inclusion, and bringing about transformative change in a phased manner were the catalysts for choosing climate change as his field of specialty. He has been picked as a Fulbright scholar to study Community Centric Solution to Climate Change.
Read Full Story
Show Less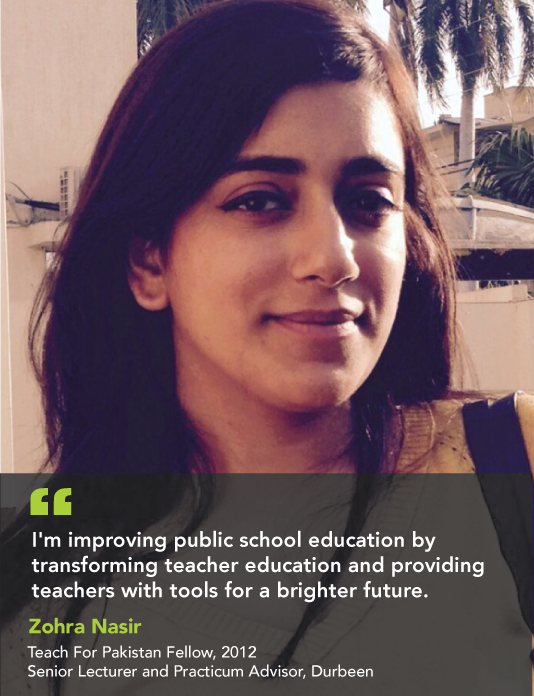 Molding world class teachers
Zohra plays a pivotal role in elevating the quality of teachers at Durbeen, a non-profit organization committed to enhancing public sector education in Sindh. She holds a senior faculty position at a government college, supported by Durbeen, located in Hussainabad, Karachi. This institution is dedicated to revolutionizing teacher education through internationally benchmarked training, aiming to produce graduates who will play a vital role in uplifting public sector schools.
After obtaining her degree in Humanities/Social Sciences from LUMS, Zohra embarked on a transformative journey. In 2012, she became a part of the Teach For Pakistan Fellowship, taking up a teaching role at the Govt Girls Primary School in Chanacer Goth, Karachi.
Zohra's pursuit of excellence led her to Vanderbilt University in the United States as a Fulbright scholar, where she delved into the realm of Learning and Instruction. Her remarkable dedication earned her the esteemed Peabody Award for Outstanding Professional Promise. Returning to Pakistan, she dedicated a significant span of 4 years to The Citizens Foundation. During this period, she conceptualized an innovative curriculum for early childhood education, which was implemented across the foundation's 1500 schools nationwide. Her efforts included the creation of over 100 original storybooks, educational toys, and comprehensive training materials. Her work in shaping world-class teachers at Durbeen is acknowledged widely.
Read Full Story
Show Less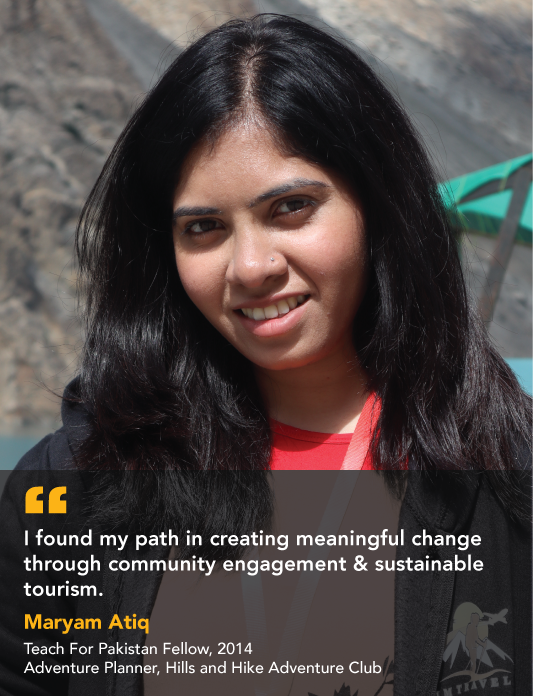 Corporal punishment takes a hike



Maryam Atiq runs a successful tour company Hills and Hike Adventure Club she set up five years back. The twists and turns in her career path are interesting. A business studies graduate from the University of Central Punjab, she got here after stints at the Adam Smith International, and Amal Academy.
At the university, Maryam was deeply involved in volunteer work, especially during natural disasters. Her desire to remain engaged with community work made her gravitate toward Teach For Pakistan's 2014 Fellowship cohort.
Iqbal High School, Green Town, Lahore was her stomping ground for the next two years where she was assigned to teach Math to Grades 4 through 8. Five of her co-Fellows left the program after witnessing corporal punishment at school. Maryam resolved to stay and change the culture. Her dedication impacted not only her students' academic performance but endeared her enough to the community to broach the sensitive subject of corporal punishment. The students, parents, community members, and teachers together banished corporal punishment from the school.
Maryam continues to work with communities where her company organizes tours to ensure they are involved in the decision-making process of sustainable tourism. One of the core principles of the Fellowship has shaped her ethos as an Alumni, i.e., working with people is where true change lies.
Read Full Story
Show Less
Several of our Alumni are leading transformational initiatives at The Citizens Foundation and designing and implementing programs benefiting children nationwide.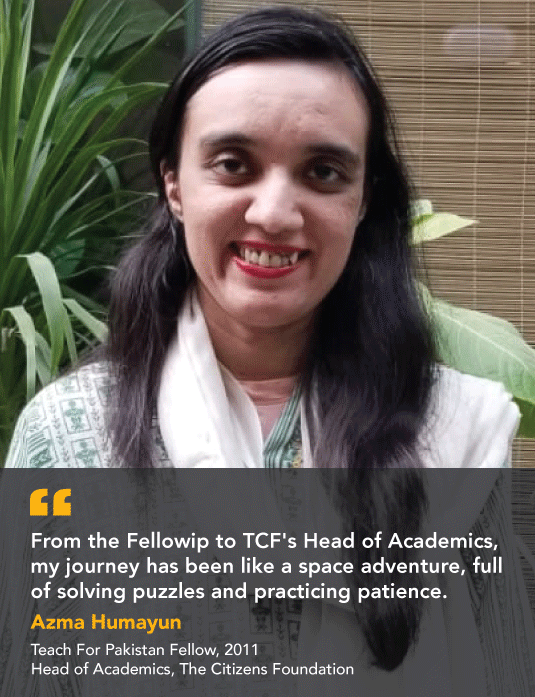 Nationwide impact
Azma's boss at The Citizens Foundation where she is Head of Academics, recently asked her the secret to her seemingly inexhaustible patience with everything.  "My training at TFP", is how she responded without a moment's hesitation. 
Her journey in bringing about transformative change in people's lives has been nothing less than intergalactic. She has gone from teaching a classroom of 50 students as a TFP Fellow in 2011 to providing education support to 40 schools, to working on academic designs for 1200 schools, and onwards to designing a nationwide education program. Curriculums and textbooks developed under her guidance are being used in schools all across Pakistan. In this, she feels, backward planning and breaking down large jigsaw puzzles into small pieces, a skill she mastered during her TFP Fellowship, has been invaluable.
One of her students, Shazia Kanwal has recently graduated from IBA, her own alma mater. Countless others have gone on to complete higher education and many often share their career trajectories with her. "Cannot think of a greater reward", she shared with a glow of satisfaction on her face.
Azma post-Fellowship work extends directly from her experiences at the TFP. "I have been fortunate to land in places where I could expand my TFP experiences and touch an ever-increasing number of lives."
Read Full Story
Show Less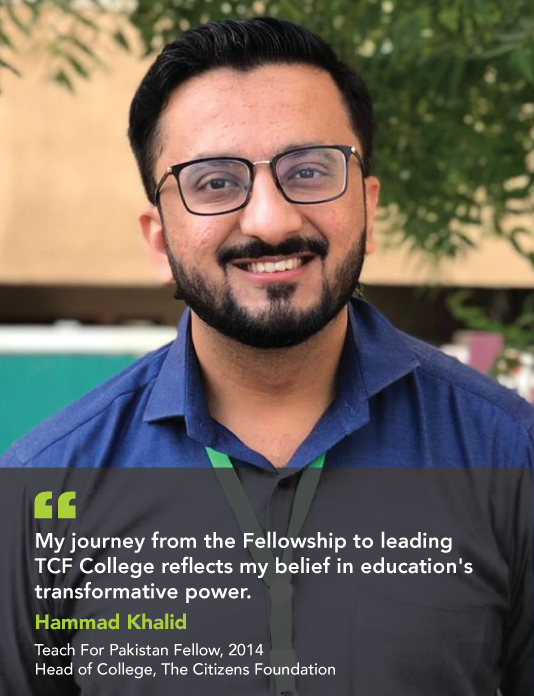 Fusing Corporate & Social
Hammad works at The Citizens Foundation as Head of TCF College. He credits his journey within the education sector as heavily influenced by his TFP experience. Clarity of purpose, the importance of patience, self-reflection, and gratitude for the opportunity to help others realize their dreams are some of the abiding traits he believes the TFP has ingrained in him.
Hammad introduced a Community Outreach Program at TCF College where the aim is to present the college model to parents and the community to increase student enrolment in higher education.
After earning a degree in Electrical Engineering from the NUS, Hammad came across Teach For Pakistan at a career fair, he felt an immediate connection. However, a stint at Phillip Morris preceded joining the Fellowship in 2014. The transition was not easy, to appease his parents, he also enrolled in an MBA program at the IBA.
During his Fellowship, he taught at a school in Ibrahim Haidri, a fishermen's community. Between a derelict building from across the school, a neighborhood mosque, and the principal's home, Hammad taught after-school classes and held regular parent-teacher meetings. He also established the first library and literacy center in Ibrahim Haidri during his Fellowship. His post Fellowship life saw a year-long stint at Procter & Gamble. 
As a lifelong member of the TFP Alumni movement, Hammad feels a strong commitment to the vision of educational equity and continues to strive for transformational change in society where every child is educated to become a loving, thinking, and engaged citizen.
Read Full Story
Show Less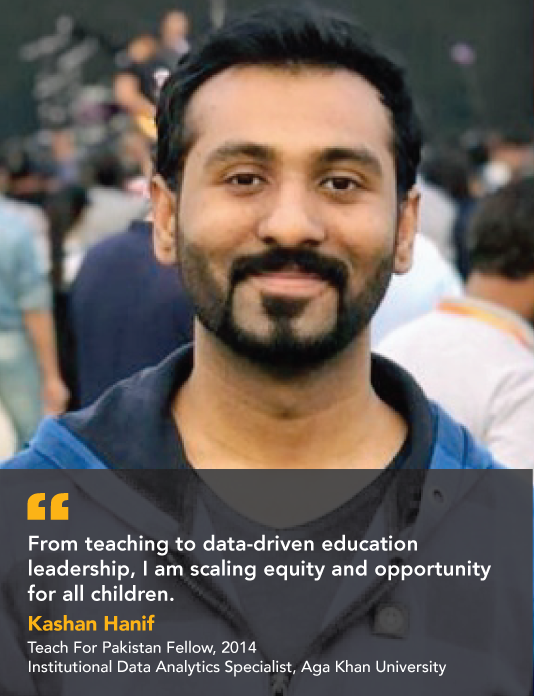 Teacher & software developer
Kashan feels that given his interest in data analytics and evidence-based learning, his transition from the Teach For Pakistan Fellowship to The Citizen Foundation, as Program Coordinator of its College program was natural. At the TCF he helped students prepare for higher education and counseled them on the career paths available to them. It proved to be an excellent platform for him to build upon his grassroots experience at the TFP school and scale it up exponentially across the country. 
To employ data for pushing the educational equity agenda even further, he enrolled himself in a Master's program in Computer Science at the IBA. He continues to use his understanding of what works in the classroom to develop software for Learning Management Systems.
Kashan transitioned from TCF's College program to the larger institutional network as Senior Manager of Program Evaluation and Research. He led a team of data analysts helping organization-wide policy formulation.
After a degree in electronics engineering, in 2014, Kashan took a leap of faith and joined the Teach For Pakistan Fellowship program, teaching at a girls' school in Hijrat Colony, a small community in Karachi. In addition to improving the students' learning achievements, he engaged the local community to bring down the dropout ratio owing to early marriages.
Kashan is currently engaged with the Institutional Data Analytics and Reporting department at the AKU.
Read Full Story
Show Less
Our Alumni take leadership positions at international organizations and work with provincial governments to bring about the change that our system needs.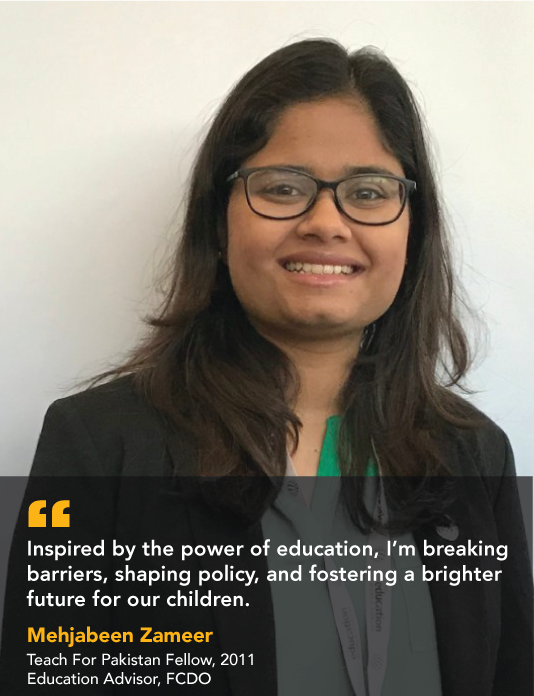 Karachi to Khyber
Mehjabeen is an Education Advisor in a £283.2M Foreign and Commonwealth Development Office (FCDO) initiative. Tasked with spearheading educational reforms in Khyber Pakhtunkhwa, she has set her sights on revamping the province's public education system. At the core of her strategy lies an emphasis on enhancing pedagogical practices within classrooms. This multifaceted endeavor involves contributing her expertise to shape education policies, ensuring the availability of quality teaching and learning materials, meticulously monitoring outcomes, and upholding the principles of fiscal prudence.
Mehjabeen, a graduate of LUMS, embarked on her journey in education reform with TFP in Karachi in 2011. Her dedication led her to identify critical obstacles to girls' education within urban slums and devise ingenious teaching approaches to overcome them. Through her efforts, the subject mastery of 220 adolescent girls saw an impressive average improvement of 50 percentage points. Furthermore, she organized and led the first-ever academic competition involving 12 public schools in Karachi, fostering healthy scholastic competition.
Her commitment to education reform did not waver after her Fellowship. She pursued advanced education at the Harvard Graduate School of Education. Her subsequent role with the FCDO centered on uplifting education for marginalized children in Sindh's urban slums and remote rural regions, impacting 55,000 young lives.
Mehjabeen's remarkable journey, from her initiation with TFP's first batch in 2011 to her pivotal role in education reform with the FCDO, exemplifies her dedication to dismantling barriers and reshaping educational landscapes, ultimately empowering countless young minds in Khyber Pakhtunkhwa.
Read Full Story
Show Less
Ready to join the movement?