Our vision is for our children to grow into thinkers, scholars, artists, scientists, and entrepreneurs – builders of a new Pakistan.
To achieve this, Fellows teach to develop students' emotional and intellectual capacity, as well as their ability to act on their learning, solving real-life challenges.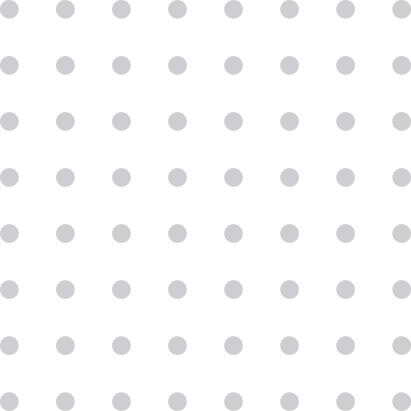 The average student in a Teach For Pakistan classroom experiences
Maheen's student Samra overcomes challenges and excels
2019 Fellow Maheen Qadri taught English in a public school in Nilore. A few months into Maheen's Fellowship, a new student joined her classroom. Like many of her students' families, Samra's parents had just moved to a village near Islamabad from Kohat in search of sustainable income and a better life for their children.
Samra had to drop out of school after completing Grade 2 because the school in Kohat did not have any teachers who could teach beyond Grade 2. Thus, Samra had been homeschooled for the past 3 years, technically being in Grade 5 when she entered Maheen's classroom.
​
Samra had scored 0 on the diagnostic test conducted by Maheen. She was also unable to pass her midterms conducted a couple of months later. This could have been the end of her academic journey, but Maheen saw the immense potential in Samra.
She noticed the spark in Samra's eyes when she entered her classroom. A classroom where she had a teacher she could trust and lean onto. This, it appears, was all she needed. In the next 1.5 years of Maheen's Fellowship, Samra actively engaged in class content and activities, partnering with her teacher in her own growth. When the last tests were conducted by Maheen in the summer of 2021, Samra achieved 80 per cent mastery on her grade-level content. What is incredible is that Samra has managed to do this after attending only 10 months of in-person teaching.
Sahar's 4th graders leap toward academic excellence
In October of 2020, in the midst of a global pandemic, Fellow Sahar Shirwani stepped into a small school in Badia Qadir Bakhsh as an English teacher for 72 third graders. Sahar had a clear vision in mind: she wanted her students to achieve academic excellence on par with any other student at their grade level.
However, the diagnostic tests she took at the start of the year revealed that 88% of her students did not have mastery on even grade 1 content. 
Troubled by this, she started to investigate further. She found that none of her students felt comfortable speaking in English and only 10% could blend letters to read new words. In fact, to most students, alphabets were just pictures. This gave Sahar a starting point. She started setting monthly goals with her students, meticulously helping them work on their listening, speaking, reading and writing abilities while also building their confidence and enthusiasm for the language. As schools opened and closed due to the pandemic, Sahar and her students were using a blend of in-person and distance learning strategies, beating all odds as they worked towards their goals.
Just in 6 months, Sahar's students had, on average, achieved Grade 3 level competence. In fact, 23 of her students had mastered  Grade 4 content! On top of this, 90% of Sahar's students could read short stories and felt confident having simple conversations in English.
Today, these students are in grade 4 and are still tirelessly working towards academic excellence - scoring an average of 80% on their test scores this term.
Shajee's 5th graders strive to shine at math.
When the 2018 Alum started his Fellowship in Tarnol, his students in grade 5 could not even solve grade 2 math problems. This was alarming because these students had to appear in board exams in a few months.
To expedite learning, Shajee started holding remedial classes after school where he would focus on bridging the academic gap.
He focused on numeracy first and would make assignments that had questions from grades 1 to 5. Once my students realized there was a need for remedial work, they were excited and on board. Every day after school, even before he would ask them to, they would take out the blackboard, chalk and duster, set up a remedial class in the school yard, arrange themselves and be ready to go.
They knew they had limited time so they made sure they wouldn't waste it. Shajee was inspired by their dedication and yearning to learn and excel, which fueled his passion to make sure they do. Before the board exam, Shajee knew that his students' learning had improved significantly, but seeing the results was heartwarming. The previous year's grade 5 at the same school had scored a 46% average, whereas Shajee's class averaged at 70%!
Maliha and Mariha's students journey to improve English Literacy
Fellows Maliha and Mariha were teaching two different grades yet their struggle was the same: most of their students lacked basic English literacy. This not only hindered their students' achievement in English but also held them back in subjects where English was the medium of instruction. This meant their 3rd and 4th graders had, on average, a learning gap of 3 academic years! 
It was clear to the Fellows that students would not be able to build mastery over 5th grade content until their foundational literacy gap was addressed but their principal feared that there wasn't enough time to focus both on foundational literacy and the grade-level curriculum. Abandoning the curriculum might put students at risk of failing 5th grade, holding them back from further opportunities. Keeping in mind the many complexities of this challenge, the Fellows designed their own curriculum and built enough trust with the principal to pilot it. They initially focused on foundational concepts, scaffolding them in rigour to build up the requirements of the curriculum. 
The task required consistent hard work by both the Fellows and the students but when the students sat the 5th-grade exam in March 2019, it paid off. Every single student in their class cleared the exam! Further analysis showed that the students were scoring higher in English compared to all other subjects and their overall performance was significantly better than previous batches from their school. The principal ended up keeping the curriculum to ensure it is taught to 2nd and 3rd graders every year.
Access to Future Pathways
Throughout the two years of the Fellowship, Fellows not only work on academic outcomes of their students but also actively work on creating pathways for students e.g., opportunities for further studies/scholarships, access to technology, exposure to careers etc.
Maryam and Noor's students' journey towards technological access!
During their Fellowship, 2018 Alumni Maryam Khalid Shah and Noor-us-Sabah felt that in order for their students to successfully achieve their goals, it was important for them to be able to access knowledge and opportunities on their own. For this, one key enabler was digital literacy; however, a preliminary survey revealed that more than half of their students didn't even know how to turn on a computer.
Concerned about the situation, the Fellows put together a digital literacy plan aiming to teach their students basic skills that would enable them to facilitate their learning. They negotiated with the school principal and teachers to gain access to the school computer lab and worked with parents to start computer classes on weekends. These continued over a course of six months until the COVID-19 pandemic put an end to in-person learning.
However, by this time their students were already adept at using the Internet to learn.
Sameen's students beating the odds to write their own stories
Fellow Sameen Kamran teaches English at a public school in Bhara Kahu, Islamabad. When she first stepped into the classroom, 1.5 years ago, her students' English literacy levels were significantly low. They had limited to no resources to learn English other than their regular textbooks. They had not been familiarized with the world of stories.
Fellow Sameen Kamran teaches English at a public school in Bhara Kahu, Islamabad. When she first stepped into the classroom, 1.5 years ago, her students' English literacy levels were significantly low. They had limited to no resources to learn English other than their regular textbooks. They had not been familiarized with the world of stories.
1.5 years after she stepped into the classroom, one of the students is about to become a published author – her story about how she sets up a silai centre to save up enough funds to go to study and become an astronaut has gotten professionally illustrated and published
Fawad and Zain's endeavour to make future education accessible for the girls in their community
2014 Alumnus Fawad and 2013 Alumnus Zain taught in Ladhekebhullar community near Lahore. When their Fellowship was ending, their students were at the age to start college. Most of the time, the girls in the community would opt for privately taking intermediate exams and staying in the village. The girls and their parents really wanted them to study ahead and excel, but there were restricted by financial and information barriers like what are good colleges around, how to apply for them and where to get the applications forms etc.
To overcome the challenge of the information gap, Fawad and Zain collected information about all the accessible colleges in the vicinity and all their processes like how/when to apply, where to submit fees etc and shared with the parents. However, parents still couldn't send their daughters to college due to financial barriers. To overcome this, Fawad and Zain had set up a scholarship fund for their students enabling girls from the community to go to college and continue their education. 
Later on, Fawad and Zain would periodically visit their students to check up on their progress.
Nawal's students received postcards from around the world!
2019 Aum Nawal used to teach English and Social Studies to 4th and 5th graders in a public school in Bhara Kahu. Nawal had a goal to expose her students to the world outside academic books and always worked on creating opportunities for her students to do that.
For a social studies' lesson on means of communication, Nawal had organized a postcard activity for her students. Volunteers from around the world signed up and students received postcards from Lahore, Karachi, Islamabad, UAE, Jakarta and the UK. 
As a next step, students also wrote back and sent postcards all around the world. 
Fellows also work on achieving non-cognitive outcomes for the students impacting their mindsets, values etc. e.g. grit, compassion, independent learning.
Mamoon and Hassan's students journey towards finding an outlet to express themselves
Hassan and Mamoon are 2020 Fellows placed in a small rural community, Kortana in Sihala, just a few kilometres off the GT road. When they first went to school, they saw how boys were so energetic but it was being expressed through a lot of aggression towards each other, and girls were mostly really quiet and scared. 
In their attempt to understand, they realized that it is because their students do not really have an outlet to express themselves.
Hassan and Mamoon decided that they have to change that. After trying out many different things, they introduced their children to art to explore and channel their emotions and thoughts, and the kids are off on incredible creative journeys! Drawing inspiration from their future aspirations, dreams, classroom conversations and what they see in their homes and on the street, students are speaking through colours, shapes and strokes of the pencil.
Arooj's students journey of standing up for themselves
When 2018 Alum, Arooj, had started teaching in a school in Bhara Kahu, most of the students were so scared, they wouldn't say a single word. It took effort and time to build their trust and confidence. In just one year, her kids became really confident: If they are not able to understand something, they hold their teacher accountable and ensure that she provides them with the tools they need to grow their learning.
Earlier on, whenever they had special assembly presentations, teachers would select a few 'bright' students to present either a poem or a play. Later on, one of Arooj's quietest students came to her and demanded time in the morning assembly. She had written a speech - without anyone's help - and now wanted to share it with the whole school! 
Arooj's students had learnt to raise their voice.
Imran's students journey of taking ownership of their learning
2019 Alum Imran Ali's Fellowship started off teaching at a learning center for street children in Peshawar. Students from the center sat an exam every year and those who passed were awarded a scholarship to attend Peshawar Model School. This helped children transition into regular schooling.
Most of Imran's students had been failing this exam for the past 3 years. As a result, they had lost hope in the value of education. They were often absent from class and even when they did come, their behavior was unruly and disengaged. 
Imran knew that his students needed to take ownership of their learning before any real progress could happen. First, he needed to gain his students' trust and so he started coming to the center an hour before his classes to connect with the students and make them feel cared for. He also reached out to their parents and other teachers to build a shared investment in the children.
He found role models in the community who had beaten similar odds to achieve their educational goals. Whenever possible, he took extra classes and talked to students about the value of education, often through research.
He also planned his lessons to be engaging, student-friendly and contextually relevant and provided students with resources to study independently.
As the year progressed, the students saw his belief in them. They also experienced joy and success in his classroom and began to approach classes with curiosity. They started prioritizing showing up to classes over all other activities - in fact, they would refuse to skip classes even when given the choice, asking Imran to put in extra time. When the time came for the exam, all of Imran's students passed making their way to Peshawar Model School!
Social and Political Consciousness
We want our students to be aware of the world around them! Fellows work on impacting students' awareness and involvement in matters affecting their communities and society at large
Election in Iman's classroom!
Iman Basit is a second-year Fellow placed in a public school in Mehrabadi, Tarnol. She teaches Social Studies to 4th and 5th graders. In the past year and a half, Iman has thoroughly worked with her students to help them set a vision for themselves.
Iman believes that it is especially important for her students to be able to relate to what they are learning and see the importance of the lessons in their life. She wants to equip them with an understanding of the world where they are aware of their rights and responsibilities. To ensure that her students are not just passive recipients of education but active learners, Iman goes above and beyond to make her social studies lessons interactive and practical.
Noor-ul-Ain's students initiative to take responsibility of their community's well being.
2020 Fellow Noor-ul-Ain teaches at a public school in Tarnol. Followed by different activities in school on World Science Day and awareness campaigns on dengue, Noor's students in Tarnol took responsibility of raising awareness about dengue in their neighbourhoods. They engaged with shopkeepers and other community members to help them spread the message, and showed us all how loving, thinking and engaged citizens look like!
On the World Children's Day 2021, our students shared about the world they want to live in. Here are some of the responses: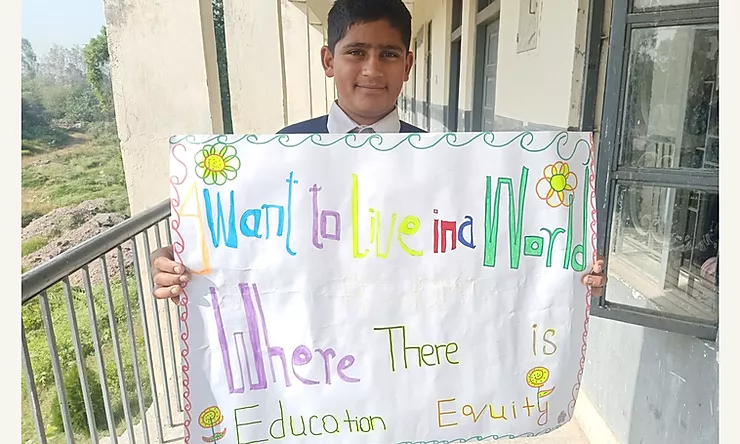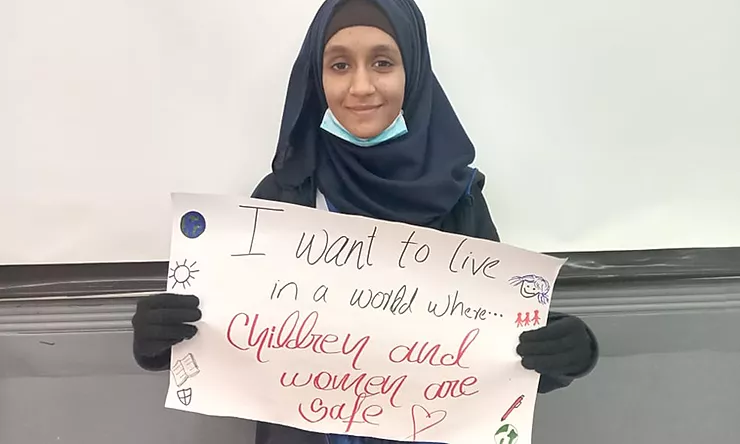 Umaima Raza, Student speaker at Alumni Induction Ceremony of 2019 cohort, shares about her experience in a Teach For Pakistan classroom.