Support our Fellows in opening a world of resources for their students through Libraries and a Lab.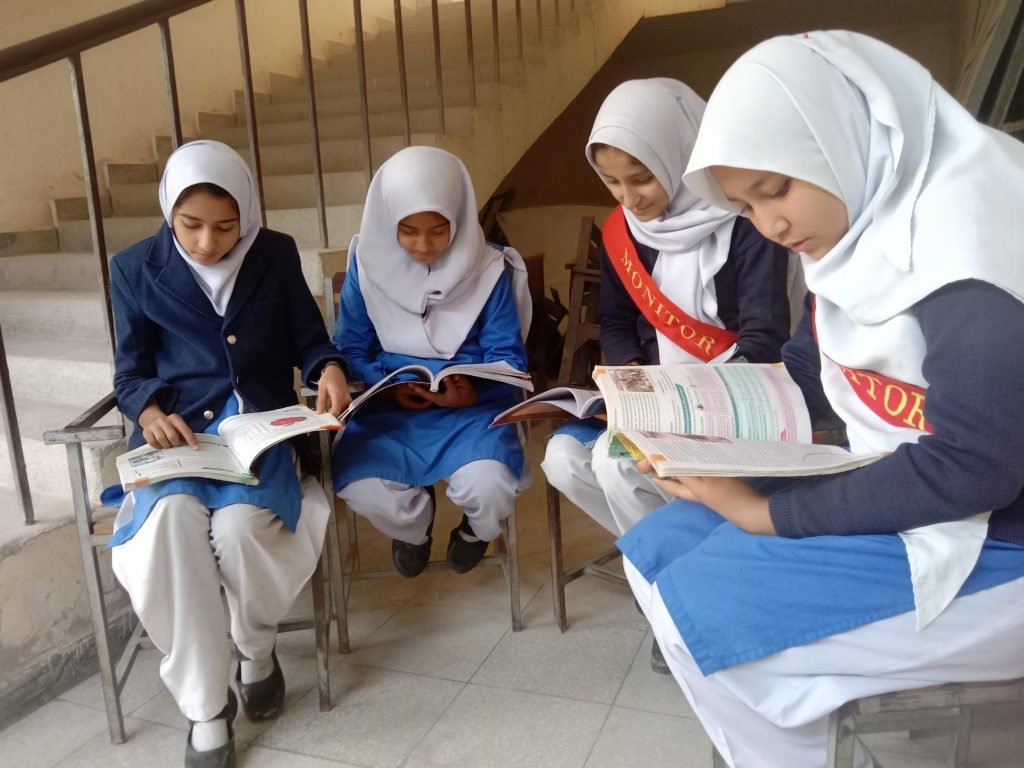 PARWAAN GAH

Khansa Munir, Shehnila Perveen

Literacy Development Programme


Khansa and Shehnila's students have a deep desire to move forward but what stands in their way is a large achievement gap of 4 to 5 years, with one underlying factor being lack of proficiency in basic literacy skills. Through diagnostic tests, they found out in their first year of Fellowship that their students stand four to five years behind their current grade level, and while they have made much progress, they require long-term support in their growing literacy skills.

The Fellows are undertaking a literacy development program, running under the name of 'Parwaan Gah'. This project will have two chapters in different schools, with their key feature being libraries that are supported by reading material and offer audio-visual learning. By inculcating reading habits among their students, Khansa and Shehnila wish to bridge the literacy gap.

To support Parwaan Gah Chapter I (school library), please refer to the bank details below:


Bank Name: Habib Bank Limited

Account Title: Khansa Munir Khan

Account Number: 13537901915403

IBAN: PK83HABB0013537901915403     

            

 

                     

 

         
To make your contributions to Parwaan Gah Chapter II (classroom libraries), please refer to the bank details below:

Bank Name: Habib Bank Limited
Account Title: Shehnila Perveen
Account No.: 50067900843403
IBAN: PK68HABB0050067900843403              
For any in-kind donations, please reach out to them via
[email protected], [email protected] 

Help Khansa and Shehnila open a world of literature in their respective schools!
Takhleqi Dunya

Vaneeza Baig, Alishbah Ishtiaq
Vaneeza and Alishbah's students, although highly passionate and hardworking learners, do not have exposure to fun, inspiring and relevant Science learning environments. Without such experiential learning, this disconnect holds them back from getting enrolled in Science subjects in higher classes. Due to this, they're unable to opt for the careers they aspire to take up.


To ensure that their students have a gateway to a career in Science, Vaneeza and Alishbah have developed a project to install a Science lab in their school. The lab will be equipped with necessary resources that provide exposure to students for activity-based learning. It will enhance their readiness for their desired STEM careers in the future, with the lab being beneficial to all the students enrolled and for the upcoming student batches as well.

Your kind contributions will enable these students to become little scientists and will provide them with the opportunities to excel in life.


Bank Details

Bank Name: Faysal Bank
Account title: Alishbah Ishtiaq
Account Number: 3462301000000831
IBAN: PK55FAYS3462301000000831

For any in-kind donations, technical collaborations or partnerships, please feel free to reach out to us via

Email:
[email protected] [email protected]

Mobile Phone: +92 333 0471715, +92 337 7638583