University Preparedness & Career Readiness
Support our Fellows in helping their students bring to life the vision they hold for their future.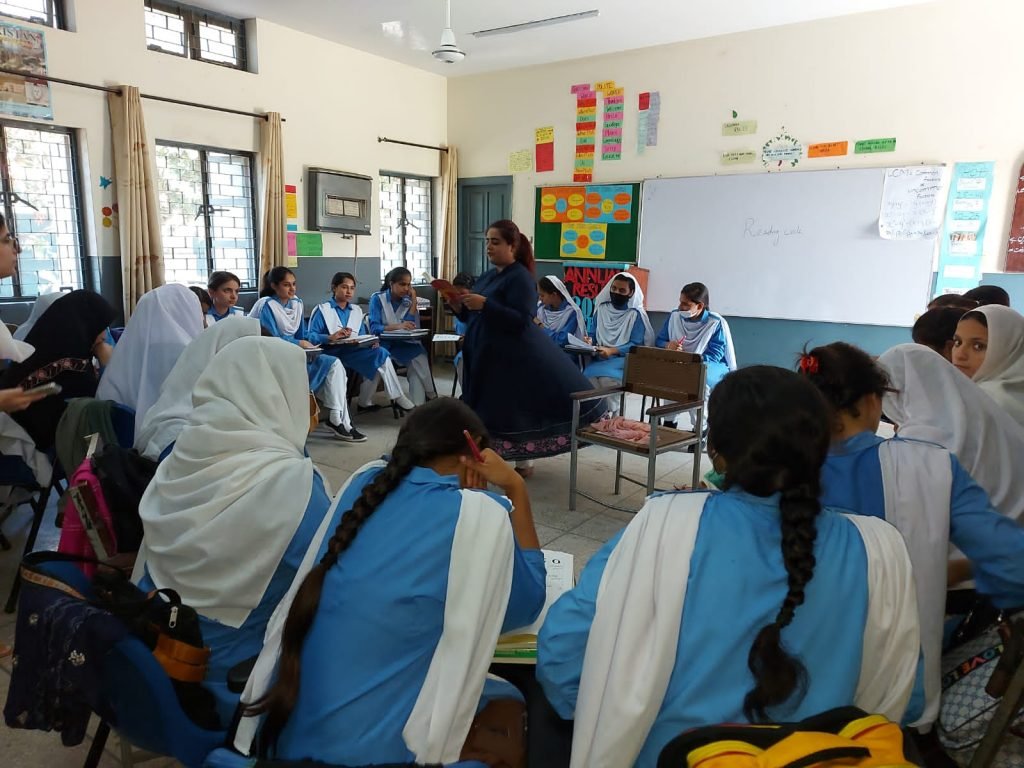 Raasta
University Preparedness and Access through Computer Literacy, English Literacy, and Career Counselling
Ansa Gul, Fareeha Iqbal
In Saidpur community, more than 70% of girls do not get enrolled in college and discontinue their studies right after completing their secondary education. After collecting data through surveys and interviews, Fareeha and Ansa identified that lack of awareness regarding career paths, scholarship funds, use of technology and reliable transportation were some common issues that held their students back. A gap in literacy skills was also identified because of which students lack confidence and hence motivation to pursue higher education.
"Raasta'' is a disciplined approach towards gathering resources and information for the students, equipping them with necessary skills to build up their confidence and to help them map their upcoming journeys so that they can take a focused path towards their vision. It includes Computer Training, English Literacy Workshops, paired with Dream Mapping activities that will help students set their goals for the future. Along with these workshops, students will be provided resources in a booklet that they can refer to for possible career options and scholarships.
Your kind contributions will help Fareeha and Ansa's students defeat all the disablers in their way, and help them achieve their dreams of higher education.

Bank Details:
Bank Name: HBL
Account Title: Fareeha Iqbal
Account Number: 14227900232503 
IBAN: PK81HABB0014227900232503
For any in-kind donations, technical collaboration or partnership, please feel free to reach out to us by any of the following:
[email protected], [email protected] 
Mobile Phone: +92 303 0501497, +92 345 5180396

Join them in their efforts to build a better future for the students of Pakistan!
CareerDoor
Pathway Towards Future Academic Readiness and Awareness

Faizan Taj, Masghood Ali
Faizan and Masghood's students dream big and hold many aspirations but what holds them back from materializing their vision for the future is lack of awareness regarding different career paths. Little to no career guidance in school or at home impinges on the motivation levels of the students to pursue higher education.
Envisioning a successful future for their students, Faizan and Masghood have designed an initiative called 'CareerDoor'. It focuses on building a career counseling curriculum, followed by a series of teachers and parents training regarding their role in ensuring higher education for students and an arrangement of university visits for the students. They also aim to develop a CareerDoor Guidance Booklet to help students become more knowledgeable about scholarships and university admission processes. CareerDoor will help the students set a vision for their future by knowing their strengths through aptitude tests.

Your generous contributions will support, enable, and help shape a better future for Faizan and Masghood's students!

Bank Name: Habib Bank Limited
Account Title: Faizan Ali Taj
Account Numeber: 03827900664703
IBAN: PK47HABB0003827900664703

For any kind of donation, collaboration or partnership, feel free to reach out to us on any of the following contact details:

Email:
[email protected] , [email protected]

Phone: +92-345-3315501,  +92-348-8989508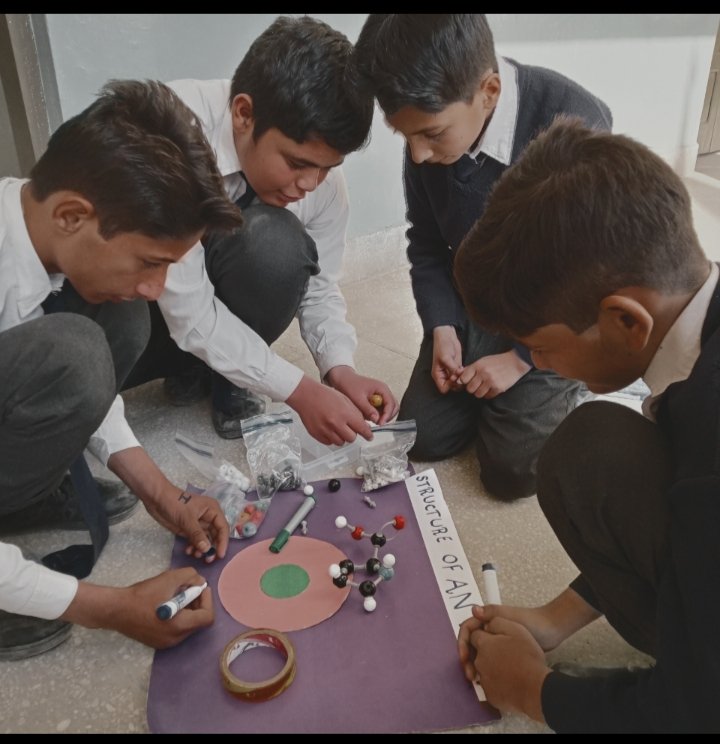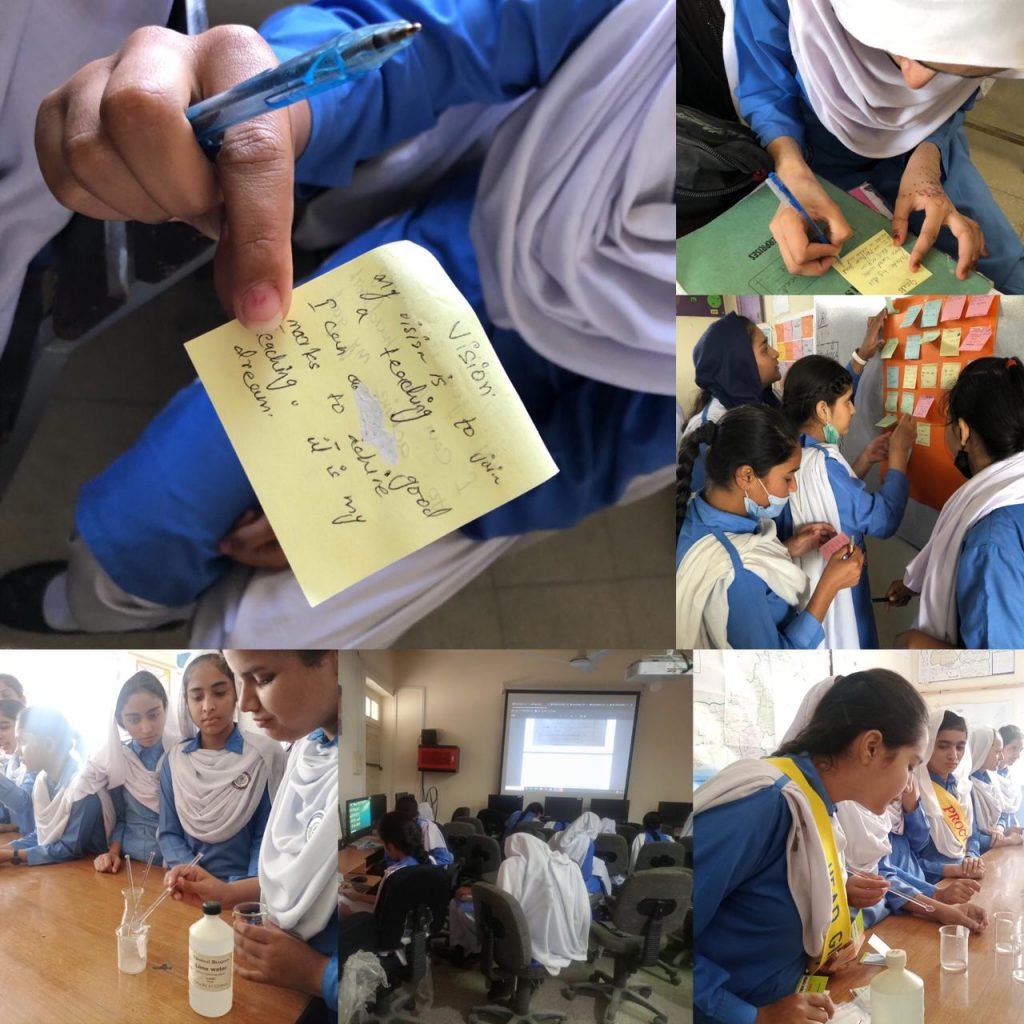 Aagahi
Enlightening the pathway toward various career opportunities through sessions and workshops
Farah Ilyas, Rida Nayyab

Rida and Farah's students wish to pursue higher education and their parenst aspire the same for their girls however, the transition rate from secondary to higher education is critically low. Over 90% of students make it to college after finishing school, but many brilliant students didn't nurture their dreams as they were unable to attend universities due to  lack of awareness about career paths, financial constraints and transport issues.
To bring these dreams to reality, Farah and Rida have designed their project 'AAGAHI" to provide exposure of various universities, different careers, and scholarship opportunities via career counseling, university visits, sessions and workshops, that will spread awareness amongst students and their parents for the feasible options available to undertake higher education. Your contribution to this cause will enable Rida and Farah to enlighten the lives of their students.
Bank Name: Faysal Bank 
Account Title: Rida Nayyab  
Account Number: 3462301000000858
IBAN: PK05FAYS3462301000000858
For any in-kind donations or further information about the project, please contact us via [email protected].

Support Farah and Rida's students to enroll in universities and let them do wonders by becoming doctors, engineers, scientists, designers, lawyers, social scientists, and bankers!
Career Counseling & Literacy Building through an E-learning Platform

Usman Khwar, Nouman Alam

Usman and Nouman's students, though immensely talented and creative, do not have the guidance needed to build career readiness and associated with it, lack literacy skills necessary for advancing to higher education. They do not have access to resources needed for career prep which leads to low scores in verbal and quantitative portions of University entrance exams and scholarship tests.

To ensure long term support and implementation of a scalable solution, they have pioneered a project to develop an Android application. Through the application, Usman and Nouman wish to provide support to students in the following areas: Career prep, English literacy building and Numeracy development. Students will use the application for career counseling, achieved via aptitude tests & provision of details regarding different career paths. English and Numeral literacy will be built through different tools, ensuring a high success rate of their students in entrance test exams.

With the application being free to use and having offline access, this platform can be scaled to be used by students all over Pakistan. Your kind contributions will guide, enable and help build a better future for hundreds of students.

Bank Details

Bank Name: HBL
Account Title: Usman Khawar
Account Number: 22927916786303
IBAN: PK96HABB0022927916786303

For any in-kind donations, technical collaborations or partnerships, please feel free to reach out to us via:

Email:
[email protected]  [email protected] 

Mobile Phone: +92 334 8020515, +92 316 9869178

Join them in their efforts to build a better future for the children of Pakistan!